Nextbridge is a software development company based in Lahore, Pakistan that is devoted to providing innovative software solutions to startups, SMBs, and large enterprises. Partnering with us will help you obtain a competitive edge in the market through high-quality custom development services. The most influential design, business, and technology talents that exist in the business will be made available to you. You demonstrate your idea and together we will learn about the right audiences, test solutions, and execute them based on the right standards.
Custom Software Development
It doesn't matter if you have a greenfield product or an existing product, we are your single source for 360° digital solutions.
We create brilliant websites that are manageable, fully functional, secure, and scalable enough to help you separate yourself from the competition.
You get custom iOS, Android, native, cross-platform, second platform app development solutions with proper QA and support services.
Take advantage of UI/UX design services to gain eye-catching aesthetics for your software. Let's design an interface that boosts customer retention.
As a top-rated DevOps team, we automate inefficiencies while strengthening your software's quality and security. Are you ready to migrate?
We know the difference between success and excellence which is why we only provide professional work. To ensure credibility, we offer QA & testing as a separate service.
All the immense knowledge we have attained since 1993 is applied to the projects. Check out our deployed ventures to know our services, industries, and capabilities. View some of our clients, the work we have done in the past, and the solutions we have provided to help them grow. Delivering great software and services is our passion. We provide you with tailor-made solutions, integrated with cutting-edge technologies like Ruby, PHP, Java, MERN, MEAN, LAMP, Serverless Stacks, Flutter, and more. No matter what industry you're in, we'll solve your problems.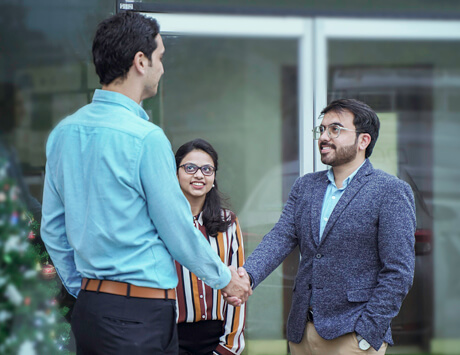 As an innovative software development company, building powerful digital solutions and experiences is what we do. It is not just our expertise that differentiates us from others, but also our relationship with clients. Our approach is cross-functional collaboration and constant improvement.
Our investment in clients means they don't just receive a team of highly experienced developers, but also the support and insights of accomplished engineers and business analysts.
Delivering IT Solutions Since 1993
At Nextbridge, we strive to be a reliable software development company offering transparent and efficient collaboration models. Our goal is to make sure that you get what you expect, on time, and within budget.
Don't waste time searching for a software development company online — take advantage of our top talent.
Recommended by 97% of Our Customers
Although selected for the lowest price on a detailed specification of integrated mobile application, Nextbridge proved to be a bridge for getting our problem solved with achieving high standard of quality and meeting the timelines.
We are overjoyed with the service and the product that Nextbridge has provided in creating our website. They actually took the time to understand the business, and catered to our every need. They kept their channels of communication open at all times, making sure we were satisfied with the final product. Thank you again for the job well done. 10/10 would use again.